Fettucini Lobster and Asparagus Alfredo
8 ounces fettucini
1 cup asparagus, cut into 1-inch pieces or broccoli flowerets
1 cup sliced fresh mushrooms
2 tablespoons margarine or butter
6 ounces cooked lobster meat, cut into bite-size pieces (about 1-1/4 cups)
2/3 cup half-and-half or light cream
3/4 cup shredded Parmesan cheese (3 ounces)
1/8 teaspoon coarsely ground black pepper
Dash ground nutmeg
Coarsely ground black pepper (optional)
Breadsticks (optional)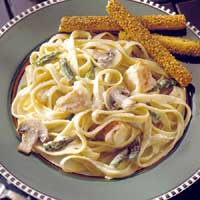 Preparation:
Cooking:
Time to table:
Serving:

4 people
One fresh or frozen lobster tail weighing 10 to 12 ounces yields just the right amount of cooked meat for this richly sauced pasta dish.
Cook fettucini according to package directions; drain. Set aside.
Meanwhile, in a large skillet cook asparagus or broccoli and mushrooms in margarine or butter for 5 minutes or until just tender. Add lobster and half-and-half or light cream; heat through.
Add cooked fettucini to the skillet. Then add Parmesan cheese, 1/8 teaspoon pepper, and nutmeg. Toss until fettucini pasta is coated. If necessary, cook for 2 to 3 minutes until sauce is desired consistency. Serve immediately. Sprinkle with additional pepper and serve with breadsticks, if desired. Makes 4 servings.
Calories 468, Total Fat 18 g, Saturated Fat 8 g, Cholesterol 60 mg, Sodium 597 mg, Carbohydrate 50 g, Protein 26 g.
Percent Daily Values are based on a 2,000 calorie diet
Click here to find out more!