Fettucini and Sweet Italian Sausage Alfredo
1 package (9 ounces) Fettucini
1 pound bulk sweet Italian sausage
1 container (10 ounces) Refrigerated Alfredo Sauce
1/3 cup (about 1.25 ounces) Freshly Shredded Parmesan Cheese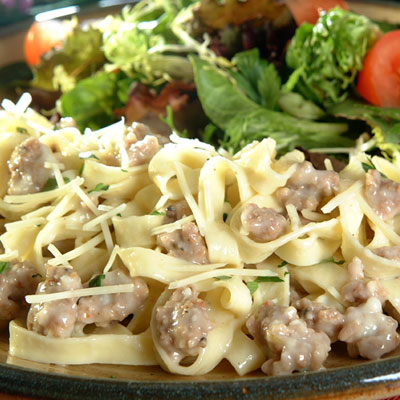 Preparation:
Cooking:
Time to table:
Serving:

4 people
The irresistible taste of sweet Italian sausage adds an unforgettable flavor to creamy Fettucini Alfredo. Tender crisp Italian green beans and a cool salad make this meal an instant classic.
PREPARE pasta according to package directions.
COOK sausage in large skillet over medium heat until no longer pink; drain. Return to skillet. Add pasta and sauce; heat through. Top with cheese.