Fettucini Chicken & Broccoli Alfredo for a Crowd
1 package (1 pound) fettucini
2 cups fresh or frozen broccoli florets
3 tablespoons butter
1 3/4 pounds skinless, boneless chicken breast halves, cut into cubes
1 can (26 ounces) Campbell's® Condensed Cream of Mushroom Soup (Regular or 98% Fat Free)
1 cup milk
1 cup grated Parmesan cheese
1/2 teaspoon ground black pepper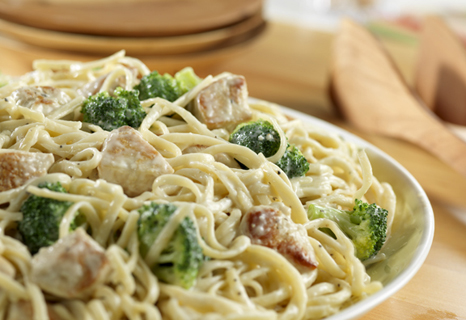 Preparation:
Cooking:
Time to table:
Serving:

8 people
This scrumptious fettucini pasta dish features easy clean-up…the fettucini, broccoli, chicken and cheesy sauce all cook in the same saucepot!
Prepare the fettucini according to the package directions in a 6-quart saucepot. Add the broccoli during the last 4 minutes of the cooking time. Drain the fettucini mixture well in a colander.
Heat the butter in the saucepot over medium-high heat. Add the chicken and cook until well browned, stirring often.
Stir the soup, milk, cheese, black pepper and fettucini mixture in the saucepot and cook until the chicken is cooked through, stirring occasionally. Serve with additional Parmesan cheese.
| | |
| --- | --- |
| Calories | 472 |
| Total Fat | 13g |
| Saturated Fat | 6g |
| Cholesterol | 77mg |
| Sodium | 754mg |
| Total Carbohydrates | 52g |
| Dietary Fiber | 3g |
| Protein | 33g |
| Vitamin A | 16%DV |
| Vitamin C | 14%DV |
| Calcium | 22%DV |
| Iron | 16%DV |