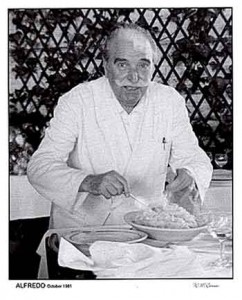 Pasta tossed with cheese and butter has a long history both in Italy and abroad.
It was popularized amongst US tourists in Rome by restaurateur Alfredo di Lelio who served it with his own name attached:
Fettuccine al burro is associated in every tourist's mind with Rome, possibly because the original Alfredo succeeded in making its serving a spectacle reminiscent of grand opera.
The restaurant's story is that the dish was invented by di Lelio at his restaurant Alfredo in 1914 as a variation of fettuccine al burro. When butter was added both before and after fettuccine was put in the serving bowl, the butter was known as doppio burro (double butter). Di Lelio's original contribution was to double the amount of butter in the bowl before the fettuccine would be poured in (thus a triplo burro (triple butter) effect instead of double) which he started doing for his pregnant wife who was having difficulty keeping food down. Alfredo added the new dish to his restaurant's menu when his wife began eating again.
A long-time customer recounted that di Lelio's restaurant became famous when Mary Pickford and Douglas Fairbanks stopped in and fell in love with the dish while on their honeymoon in 1927. To express their gratitude, they gave him a golden fork and spoon along with a photo of them eating in his restaurant. He proudly displayed the photo on the wall. Pickford and Fairbanks served his dish to their friends and associates when they returned to Hollywood. Word about the new dish quickly spread.
Alfredo di Lelio retired in 1938 and sold his restaurant. The new owner kept the restaurant's name, menu, traditional recipes, photos on the wall, and everything else; as of 2011, the restaurant is still in business under the name Alfredo alla Scrofa.
When Rome prepared for a large religious celebration in 1959, some local businessmen tracked down Alfredo di Lelio and offered to build him a new restaurant. He was retired, but he agreed to show up and act as a greeter there. When the religious holiday arrived, old customers showed up and had their photos taken for the walls of the "new" restaurant located at 30 Piazza Augusto Imperatore, a few blocks north of his original location.
That expansion continued in 1977 when Alfredo II and Guido Bellanca opened a new "Alfredo's" by Rockefeller Center in New York City to serve it. The walls of that restaurant are plastered with drawings by Al Hirschfeld – including the rest rooms. Another Alfredo's opened in the Epcot at Walt Disney World in Lake Buena Vista. As of September 2007, the Epcot branch is closed.
Fettuccine Alfredo has now become ubiquitous in Italian-style restaurants in the United States. In Italy and throughout Europe, the name "Fettuccine Alfredo" is basically unknown; similar dishes may be called pasta al burro (pasta with butter) or pasta in bianco (pasta in white). Butter quantity is usually less than in the American version and cream is rarely used.
A few words about the Fettuccine Pasta itself
Fettuccine (literally "little ribbons" in Italian) is a type of pasta popular in Roman Cuisine. It is a flat thick noodle made of egg and flour (usually one egg each 100g flour) wider than but similar to the tagliatelle typical of Bologna. They are eaten with sugo d'umido (beef ragù) and ragù di pollo (chicken ragù).
Fettuccine are traditionally made fresh (either at home or commercially) but dried tagliatelle can also be bought in shops.
A popular fettuccine dish in North America is fettuccine alfredo. Spinach fettuccine are made from spinach, flour, and eggs.
Sources: Wikipedia – Fettuccine Alfredo,  Fettuccine