Fettucini with Clams in Saffron Alfredo Sauce
1 pound (about 24) small fresh clams, scrubbed clean
1 cup white wine
2 teaspoons chopped garlic
1 container (10 ounces) Refrigerated Alfredo Sauce or Light Alfredo Sauce
1/2 teaspoon saffron strands
1 package (9 ounces) All Natural Fettucini
2 tablespoons chopped parsley (optional)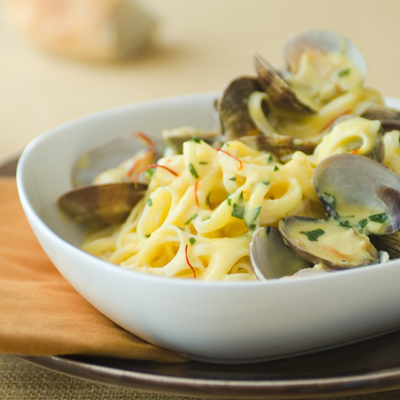 Preparation:
Cooking:
Time to table:
Serving:

2 people
Delicate strands of saffron are paired with a creamy Alfredo sauce for an upscale entrée that is sure to please.
STEAM clams with wine and garlic in covered, medium saucepan over medium-high heat for about 5 minutes or until clams open. Drain clams, reserving 1/2 cup cooking liquid.
HEAT sauce, reserved cooking liquid and saffron in small saucepan over low heat for 5 minutes. Stir until blended and saffron imparts a yellow color to sauce.
PREPARE pasta according to package directions.
TOP pasta with sauce and clams. Garnish with chopped parsley. Serve immediately.
Saffron strands can be found in the spice section of major grocery and specialty stores.
Tip: If fresh clams are hard to find, substitute 1 can (6.5 ounces) chopped clams, drained. Simmer Alfredo sauce, 1/2 cup wine, clams, 1 teaspoon chopped garlic and saffron strands for 10 minutes, then follow the instructions above.