Fettuccine Alfredo with Grilled Chicken
1 batch basic egg pasta
1-2 boneless, skinless chicken breasts, butterflied in half
1 tablespoon olive oil
Salt and pepper
For the alfredo sauce:
3 tbsp. butter
2 cloves garlic, smashed
1½ cups heavy cream
1½ cups freshly grated Parmesan cheese
Salt and pepper, to taste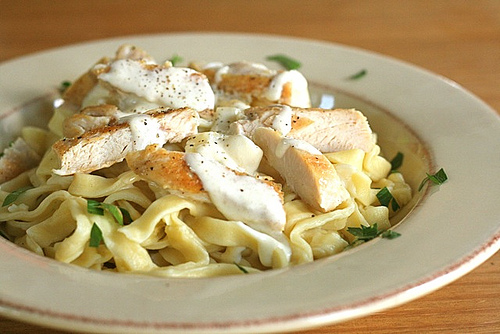 Preparation:
Cooking:
Time to table:
Serving:

4 people
Bring a large pot of water to boil for cooking the pasta.  While you are waiting, cook the chicken breasts.  Heat the oil in a skillet over medium high heat.  Season both sides of the chicken breast halves with salt and pepper.  Add to the skillet and cook until brown on one side, 3-5 minutes. Then flip and cook until browned on the other side and cooked through, an additional 3-5 minutes.  Remove to a plate and let rest for a few minutes.  Cut into small strips.  Cover with foil to keep warm while you prepare the sauce.
Once the pasta water is boiling, cook the pasta until al dente.  (Homemade pasta can cook very quickly, so check frequently to be sure it is the texture you would like.)
To make the sauce, melt the butter in a medium saucepan over medium heat.  Add the garlic and cream, and bring to a simmer.  Reduce the heat to medium-low and continue to cook until thickened, about 5 minutes.  Mix in the Parmesan cheese and stir until completely melted.  Season with salt and pepper to taste.
Serve fresh pasta topped with the alfredo sauce and grilled chicken pieces.  Garnish with chopped fresh herbs, if desired.