Chicken Alfredo with Mushrooms and Asparagus
2 tablespoons extra-virgin olive oil
1 (8-ounce) package sliced fresh white mushrooms
1 cup fresh or frozen chopped onion (about 1 medium-large yellow onion)
1 small garlic clove, minced
1/2 teaspoon dried marjoram, crumbled
1/4 teaspoon dried thyme, crumbled
1/4 teaspoon freshly ground black pepper
1 (10-ounce) package carved, fully cooked chicken breast
1 (10-ounce) package prepared alfredo sauce (from the refrigerator counter; use light or reduced-fat, if you like)
1/4 cup dry Marsala, Sherry, or white wine
1 (9-ounce) package frozen asparagus cuts (do not thaw but do separate into individual pieces)
3 cups Al Dente Make-Ahead Rice, reheated, recipe follows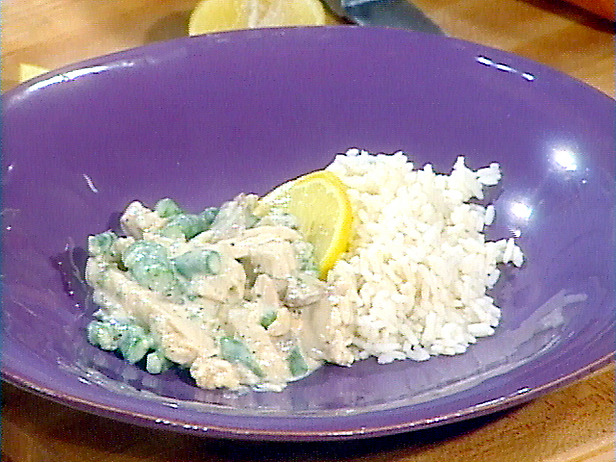 Preparation:
Cooking:
Time to table:
Serving:

4 people
Directions
Heat oil in large, heavy skillet over moderate heat 2 minutes. Add mushrooms, onion, garlic, marjoram, thyme, and pepper and cook, stirring often, until the juice released from the mushrooms evaporates, about 5 minutes.
Add chicken, alfredo sauce, and wine; adjust heat so mixture bubbles gently, then cook, stirring frequently and breaking up chicken, until steaming, about 3 minutes.
Add asparagus, distributing evenly over surface of mixture, cover and cook just until crisp-tender, 2 to 3 minutes; no longer or asparagus will become mushy.
Make a bed of rice on heated deep platter, spoon chicken mixture on top, and serve.
Al Dente Make-Ahead Rice:
2 quarts water
4 cups uncooked converted white rice (no substitute)
Bring water to rapid boil in large (at least 4 1/2-quart), heavy saucepan over high heat.
Add rice, stir well, and then return to rapid boil. Adjust heat so water stays at gentle but steady ripple and cook uncovered until all water is absorbed, about 20 minutes. Do not stir.
Fluff rice gently with fork and cool 1 hour. Do not cover.
Fluff rice gently again, then spoon lightly, do not pack, into plastic storage containers, snap on lids, label, and date. Set in refrigerator or freezer.
To reheat refrigerated or frozen rice, pile rice in large fine sieve, fork lightly apart and balance sieve in top of large, heavy saucepan over 2-inches boiling water. Cover loosely with lid or foil and steam until just heated through, 3 to 5 minutes, but times will vary according to amount of rice being reheated and whether it's refrigerated or frozen. Fluff with fork and serve.
Yield: 16 cups