Spicy Fettucini Alfredo with Crab
1 lb crab meat
1 tablespoons of butter
3 tablespoons of Hot Sauce
3 tablespoons of Worcestershire sauce
2 cups of heavy cream
½ minced shallot
¼ minced yellow onion
2 finely chopped green onion
¼ cup of Parmigiano-Reggiano Cheese
1 tablespoon of minced garlic
½ lb of cooked fettucini
Salt and Pepper to taste
Finely chopped dill and parsley for plating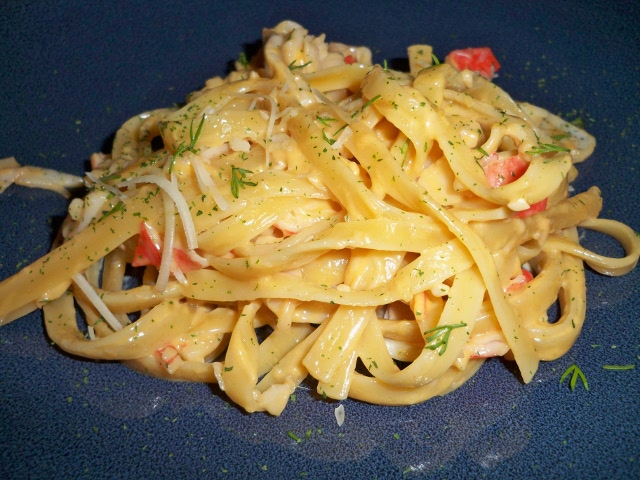 Preparation:
Cooking:
Time to table:
Serving:

2 people
1) Melt the butter in a large skillet and sauté the crab meat for roughly 3 minutes over a medium flame
2) Add salt and pepper to taste, add your shallot, green and yellow onions and cook for 2 minutes
3) Stir in hot and Worcestershire sauces, stir and cook for a minute – allowing the flavors to be fused with the contents already in the pan
4) Increase heat to medium-high and add cream and cheese, stir and cook for 6 minutes allowing the cream to thicken
5) Mix your crab and cream sauce with the cooked fettucini and you are done!
If you love Alfredo, you enjoy this dish.
Hint:
For a creamier sauce, add more cheese.