Light Fettucini Alfredo with Shrimp & Peas
12 ounces Fettucini
1 cup frozen Peas
1 and ½ cups milk
½ cup heavy cream
2 tablespoons unsalted butter
1 cup freshly grated Parmesan Cheese, plus more for serving
1 pound medium-sized Shrimp, deveined with tails off
Freshly cracked black pepper
Chopped fresh flat-leaf parsley, for garnish, optional
Lemon wedges for serving, optional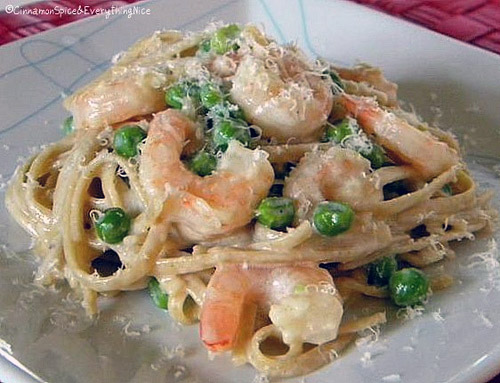 Preparation:
Cooking:
Time to table:
Serving:

4 people
1. In a large stockpot, cook the fettucini and peas in plenty of boiling salted water according to package directions to al dente.
2. Meanwhile make the sauce. Heat milk and heavy cream over low-medium heat in a deep saute pan. Add butter and whisk gently to melt. Slowly simmer until sauce starts to thicken. Sprinkle in cheese and whisk to incorporate. Add shrimp and simmer until shrimp curl up, stirring often. Remove from heat.
3. Add the drained fettucini and peas to the shrimp sauce and toss. Season with black pepper. Garnish with parsley and serve with Parmesan cheese and lemon wedges.
The chef's tips and directions for that great Fettucini plate
This is a lightened up recipe for Alfredo sauce tossed with Fettucini, shrimp and Peas. Most alfredo sauces call for using all cream; here I've swapped out some of the cream for whole milk. A little bit of cream goes a long way. This still retains that rich and creamy texture and flavor that I love alfredo for but without the heaviness.
Traditional Alfredo sauces don't use cream or milk; they are made of butter and Parmesan. Outrageous amounts. Two sticks per pound of fettucini  and 2 or 3 cups of Parmesan! This makes even the full cream recipe appear tame in calories!
This comes together quickly and is perfect when your short on time but want a hot, delicious home cooked meal. You can even replace the shrimp with leftover cooked chicken or steak and the peas for broccoli, cauliflower, spinach or whatever vegetable you have on hand. Cooking the vegetables right in the water with the fettucini saves time and spares a pot from being dirtied. You can also use cooked frozen shrimp: just be extra careful not to over cook them.
Nothing says comfort more than a plate full of fettucini tossed in a creamy sauce! Throw some succulent shrimp and sweet peas into the mix and you have a satisfying and complete one-dish fettucini meal.