Healthy Fettucini Alfredo in green Vegetables
1 pound whole-wheat fettucini noodles
8 cups boiling water
1 Tbsp. margarine
1 cup skim milk
1 1/2 tsp. cornstarch
1/4 cup light cream
1/2 cup shredded Parmesan cheese
1 Tbsp. olive oil
1 cup chopped broccoli or spinach
Salt, pepper and nutmeg to taste
Medium saucepan
Large stove pot
Colander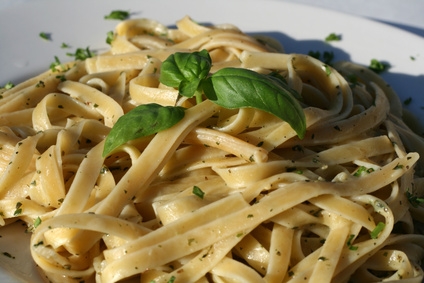 Preparation:
Cooking:
Time to table:
Serving:

2 people
Fettucini Alfredo is like macaroni and cheese for adults. It's rich, creamy taste and hearty consistency takes us back to the macaroni and cheese mom made for us as a kid, making it one of the ultimate "comfort foods." Unfortunately, traditional Fettucini Alfredo isn't much healthier than mom's mac and cheese; homemade Fettucini, in particular, is often loaded with artery-clogging fat and hip-hugging calories. The good news is it takes only a few simple steps to make a delicious and nutritious Fettucini Alfredo dish.
Use whole-wheat fettucini noodles in place of traditional white noodles. While white noodles are a starch that turns to sugar in the body, whole-wheat noodles are a grain with up to six grams of fiber per serving. Not only is fiber good for your heart; it is also more filling and promotes portion control.
Use light cream instead of heavy cream, and low-fat Parmesan cheese instead of full-fat cheese. Similarly, substitute skim milk for whole or two percent milk, and margarine for butter. Add cornstarch for added thickness. Add green leafy vegetables—such as broccoli or spinach—for additional fiber, vitamins and minerals.
Bring eight cups of water to a boil on the stovetop. Add fettucini noodles to the water and cook until soft. For firmer noodles, boil for three to four minutes; for softer noodles, boil for up to 10 minutes. Drain the noodles in a colander and set aside.
Chop the vegetables and sauté lightly in olive oil, with a pinch of salt, pepper and nutmeg to taste. Do not overcook vegetables, as overcooking can compromise the nutritional value of the vegetables. Remove vegetables from heat and set aside.
Melt the margarine in a medium saucepan. Add milk and whisk with cornstarch on medium heat until thick. Add cooked fettucini to the saucepan and mix well. Add light cream and Parmesan cheese, and mix in vegetables. Turn the heat to low and allow the mixture to thicken to a desired consistency. The longer you heat the Alfredo, the thicker the sauce will become.