Fettucini Alfredo with Prosciutto and Peas
2 tablespoons extra-virgin olive oil
2 shallots, minced
1 teaspoon minced garlic
1 cup heavy cream
Salt and freshly ground pepper
1/4 pound prosciutto, julienned
1 cup frozen peas, thawed
1/2 cup freshly grated Parmigiano-Reggiano, plus more for garnish
1 pound fresh fettucini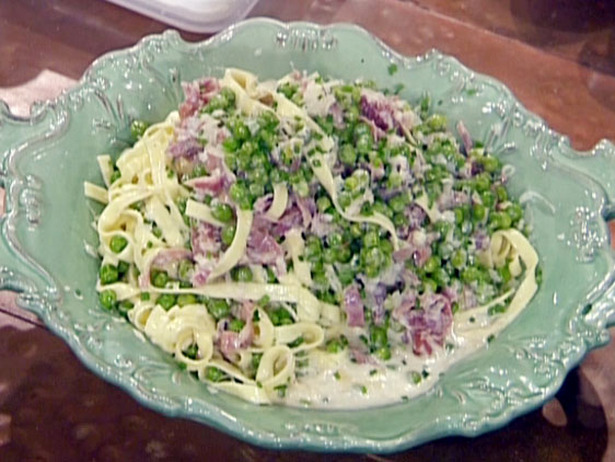 Preparation:
Cooking:
Time to table:
Serving:

4-6 people
Recipe for complete fettucini meal and… Even better with fresh fettucini pasta…
Heat olive oil in a large skillet over medium heat. Add shallots and garlic and saute for a couple minutes or until tender. Add cream and cook for 1 to 2 minutes. Season with salt and pepper, to taste. Add prosciutto and peas and toss gently to combine. Sprinkle cheese over top and stir to melt and combine. Cook until heated through.
In a large pot of boiling salted water, add fettucini and cook until al dente (just a couple minutes for fresh fettucini pasta.) Drain, reserving 1/4 cup pasta water. Add the reserved pasta water and drained fettucini to skillet. Toss to combine fettucini with sauce and season with salt and pepper, to taste. Serve, garnished with extra cheese.