Fettuccine with Shiitake Mushrooms & Basil
2 tablespoons extra-virgin olive oil
3 cloves garlic, minced
2 ounces

shiitake mushrooms

, stemmed and sliced (1 1/2 cups)
2 teaspoons freshly grated lemon zest
2 tablespoons lemon juice, juice
1/4 teaspoon salt, or to taste
Freshly ground pepper, to taste
8 ounces whole-wheat fettuccine, or spaghetti (see Ingredient note)
1/2 cup freshly grated Parmesan cheese, (1 ounce)
1/2 cup chopped fresh basil, divided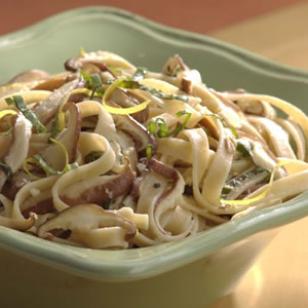 Preparation:
Cooking:
Time to table:
Serving:

4 people
EatingWell reader Sidra Goldman of Washington, D.C., contributed this fresh-tasting whole-wheat pasta recipe. Lemon zest accents the basil beautifully.
Preparation
Bring a large pot of lightly salted water to a boil for cooking pasta.
Heat oil in large nonstick skillet over low heat. Add garlic and cook, stirring, until fragrant but not browned, about 1 minute. Add mushrooms and increase heat to medium-high; cook, stirring occasionally, until tender and lightly browned, 4 to 5 minutes. Stir in lemon zest, lemon juice, salt and pepper. Remove from the heat.
Meanwhile, cook pasta, stirring occasionally, until just tender, 9 to 11 minutes or according to package directions. Drain, reserving 1/2 cup cooking liquid.
Add the pasta, the reserved cooking liquid, Parmesan and 1/4 cup basil to the mushrooms in the skillet; toss to coat well. Serve immediately, garnished with remaining basil.
Tips & Notes
Ingredient Note: Whole-wheat pastas are higher in fiber than white pastas. They can be found in health-food stores and some large supermarkets.
Per serving: 311 calories; 11 g fat ( 3 g sat , 6 g mono ); 9 mg cholesterol; 44 g carbohydrates; 0 g added sugars; 13 g protein; 8 g fiber; 307 mg sodium; 125 mg potassium.
Nutrition Bonus: Fiber (28% daily value), Calcium (14% dv).
Carbohydrate Servings: 2 1/2
Exchanges: 21/2 starch, 1 lean meat, 1 fat