Fettucini all'Alfredo con Prosciutto di Parma
1 (12 ounce) package egg fettucini
1/3 pound prosciutto di Parma
2 tablespoons butter
1 to 1 1/4 cups half-and-half
1 cup (3 healthy handfuls) grated Parmigiano-Reggiano
2 pinches ground nutmeg or about 1/4 teaspoon freshly grated nutmeg
Coarse ground black pepper
A pinch coarse salt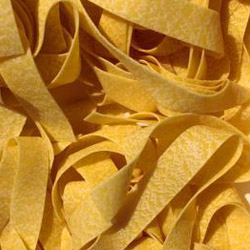 Preparation:
Cooking:
Time to table:
Serving:

4 people
Bring salted water to a rolling boil for the fettucini and cook to package directions for al dente fettucini.
Slice prosciutto ham into thin strips across. Separate ham ribbons and loosely pile them up and set aside.
Preheat a large skillet over moderate heat. Drain the pasta. Add the butter to the pan and melt. Add half-and-half to the melted butter. Stirring constantly, add cheese and cook sauce 1 minute. Season with nutmeg, pepper, and a pinch of salt. Turn off heat under sauce and add the fettucini to the skillet. Toss the fettucini until sauce coats the noodles evenly. Add prosciutto ribbons and toss to evenly distribute them. Mangia!