Light fettucini alfredo with shrimp
1 pound egg fettucini or a combination of egg and spinach
2 cups fat-free half-and-half
2 tablespoons cornstarch
3/4 teaspoon garlic salt
1/4 teaspoon ground nutmeg
1/2 cup shredded Asiago cheese
1 tablespoon Dijon mustard
1 cup frozen peas, thawed
2 tablespoons olive oil
1-3/4 pounds jumbo shrimp, shelled and deveined
Additional Asiago cheese and fresh basil for garnish, if desired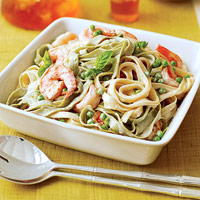 Preparation:
Cooking:
Time to table:
Serving:

6 people
This low-fat fettucini recipe calls for tossed shrimp with fettucini and a creamy Alfredo sauce made with fat-free half-and-half.
Bring a large pot of lightly salted water to boil over high heat. Prepare the fettucini following package directions, stirring frequently. Drain.
Meanwhile, mix 1/4 cup of the half-and-half with the cornstarch; stir well and set aside. In a medium-size saucepan, add the remaining 1-3/4 cups half-and-half and place over medium-high heat. Stir in 1/2 teaspoon of the garlic salt and the nutmeg. Bring to a simmer and stir in the cornstarch mixture; cook for 30 seconds or until slightly thickened.
Take sauce off heat and whisk in the cheese and the mustard until smooth. Stir in the peas. Keep warm.
Heat olive oil in a large skillet over medium-high heat. Add shrimp and remaining 1/4 teaspoon garlic salt; cook for 3 minutes per side until cooked through. Stir cream sauce into skillet with shrimp; add fettucini and toss to coat. Serve immediately with additional cheese. Garnish with basil, if desired.
Calories 445, Total Fat 10 g, Saturated Fat 2 g, Cholesterol 170 mg, Sodium 733 mg, Carbohydrate 56 g, Fiber 3 g, Protein 31 g.
Percent Daily Values are based on a 2,000 calorie diet