Crowd sized Fettucini Alfredo
36 ounces fettuccine pasta
Large cooking pot
Strainer
24 tablespoons butter
12 inch skillet with deep sides
2 shallots
5 cups heavy cream
1 cup lemon juice
4 cups grated Parmesan cheese
4 teaspoons fresh lemon zest
2 teaspoons nutmeg
Salt and black pepper to taste
Fresh parsley or oregano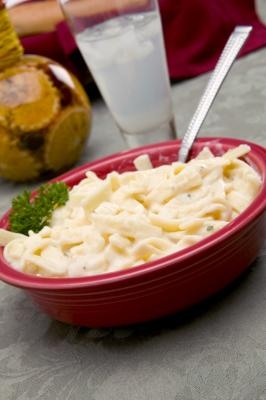 Preparation:
Cooking:
Time to table:
Serving:

12-16 people
If you are going to be responsible for feeding a crowd, pasta dishes are often a good direction to go because it is very easy to make a bigger batch at once compared to other recipes. If you want to serve a pasta dish with a cheesy, creamy sauce over flat noodles, featuring alfredo is the recipe you are looking for. You can prepare a large batch of fettuccine alfredo that serves 12 to 16 people in a surprisingly short amount of time.
Cooking Directions
Place 36 ounces of fettucini pasta into a very large cooking pot full of enough boiling water to cover the pasta by two inches. Cook for the amount of time indicated on the back of the specific container and drain.
Melt 24 tablespoons of butter in a 12 inch skillet with two-inch deep sides. Add two chopped shallots and cook until the shallots are soft for about three minutes on medium heat.
Pour 3 1/2 cups of the heavy cream into the skillet with the butter and shallots. Add a cup of fresh lemon juice. Stir occasionally until the butter has completely melted.
Toss the cooked pasta with the sauce completely. Add 1 1/2 cups more of heavy cream, 4 cups of grated Parmesan cheese, 4 teaspoons of fresh lemon zest, 2 teaspoons of nutmeg and salt and black pepper to taste.
Toss the pasta ingredients together well and cook over low heat for two minutes, or until all the cheese is melted and the sauce is thick.
Garnish the pasta with fresh parsley or oregano. You can also sprinkle a bit of fresh grated Parmesan over the top.
Tips
Always plan to make more food than you expect to be eaten. One pound of pasta will yield from four to six servings. The sauce can be made in larger batches by adding 1 cup of heavy cream, 6 tablespoons of butter and 1 cup of grated cheese per extra pound of pasta.