Crimini Mushrooms Fettucini Alfredo Recipe
1 pound crimini mushrooms, sliced
2 fresh shiitake mushrooms, stemmed and sliced
1 large portobello mushrooms, sliced
2 clove finely minced garlic
1/4 cup extra virgin olive oil
3 tablespoon unsalted butter
3 tablespoons pecorino romano cheese grated in long shreds more for garnish
1 cup heavy cream
2 tablespoons cream cheese
1 tablespoon of tomato paste
freshly ground pepper
12 ounces dry or (fresh preferred) fettucini pasta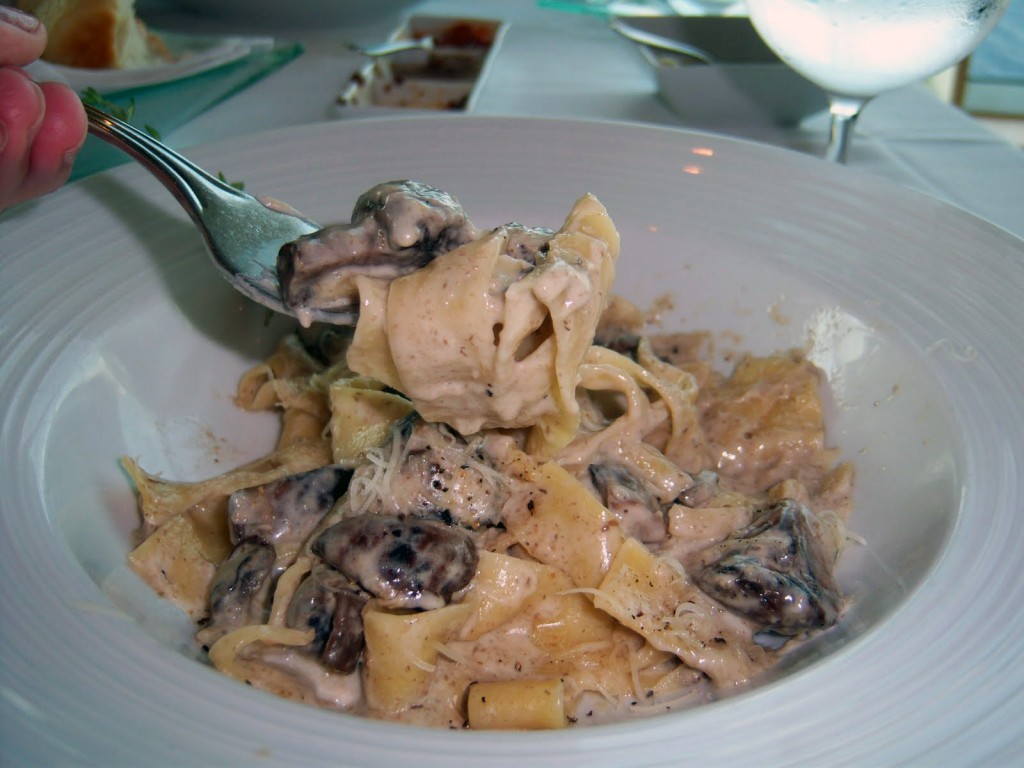 Preparation:
Cooking:
Time to table:
Serving:

4 people
This fettucini recipe from Blogger's "Pegasuslegend" is a real treat for the mushroom lover inside some of us…
On our cruise this was a dish I just couldn't wait to recreate and just one of many. Since I am remodeling my kitchen, I had to make this at my sons house. There is nothing like cooking in your own kitchen, its really hard to get use to someones elses house. Everything is in a different place than I am use to. The results were fantastic just the same. The mushrooms were delicious in this fabulous creamy sauce, just amazing, creamy alfredo with lots of mushrooms and the fettucini pasta so tender. This is not a dieters dish. The little pink color in this dish was added tomato paste, which was a perfect addition to the color and taste of this dish. Served with plenty of long shreds on top of grating cheese, lots of garlic toast and antipasto salad will be a perfect meal! Enjoy!
Cooking Directions
Cook the fettucini according to package directions.
Meanwhile, saute mushrooms in butter for (around 5 minutes) add garlic after three minutes in olive oil over low heat. Mix in tomato paste, butter, heavy cream, cream cheese; bring to a boil over medium heat. Reduce heat, and simmer while stirring until cream cheese has melted and mixture has thickened.
Drain fettucini pasta. Pour sauce over the fettucini, and toss with cheese to coat. Serve with freshly cracked black pepper and more grating cheese.
About the Author
A love for cooking Italian foods and eating starting at 11 years of age in the kitchen, with grandma and mom. This blog was created to leave behind to my two sons and their future families the traditions we grew up with, hope you enjoy the journey of What's Cookin'Italian Style Cuisine.