5 minutes Tuna Fettucini Alfredo Recipe
 1 cup fresh fettucini pasta
2 cans (85 g each) Clover Leaf Solid Light Tuna - Yellowfin in Olive Oil
1 cup (250 mL) 10% cream
2 garlic clove, minced
1/2 cup (125 mL) canned mushrooms, sliced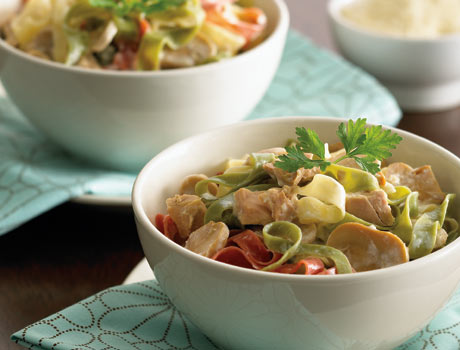 Preparation:
Cooking:
Time to table:
Serving:

2 people
This tuna pasta recipe is one of Clover Leaf's popular 'Take 5' recipes, using 5 ingredients and ready in 5 minutes.
PREPARATION
In a large pot of boiling, salted water, cook fettucini for 4 minutes; drain well.
In a large sauté pan, add the olive oil from the canned tuna and sauté the garlic, mushrooms and tuna, while the pasta is cooking.
Add the cream.
Toss pasta with sauce in the sauté pan, until coated.
Serve immediately. If desired, sprinkle with parmesan cheese and garnish with sprig of parsley.
Note: Tri-coloured fettucini was used for this photography. Regular fresh fettuccini works well, too.
NUTRIENTS PER SERVING
|   | Amount Per Serving | % Daily Value |
| --- | --- | --- |
| Calories | 550 |   |
| Fat | 27 g | 42% |
| Saturated Fat | 10 g |   |
| Trans Fat | 0 g |   |
| Saturated + Trans |   | 50% |
| Cholesterol | 105 mg |   |
| Sodium | 430 mg | 18% |
| Carbohydrate | 45 g | 15% |
| Fibre | 3 g | 12% |
| Sugar | 1 g |   |
| Protein | 31 g |   |
| Vitamin A |   |   |
| Vitamin C |   | 4% |
| Calcium |   | 15% |
| Iron |   | 20% |
CLAIMS PER SERVING
Source of Fibre
Excellent Source of Protein
Good Source of Calcium
Good Source of Iron