Smarter Fettuccine Alfredo – Kraft recipe
220 g whole wheat fettuccine, uncooked
1 cup 25%-less-sodium chicken broth
1 Tbsp. flour
1/3 cup (1/3 of 250-g tub) Philadelphia Light Cream Cheese Spread
2 Tbsp. Kraft 100% Parmesan Light Grated Cheese, divided
1/4 tsp. ground nutmeg
1/8 tsp. pepper
2 Tbsp. chopped fresh parsley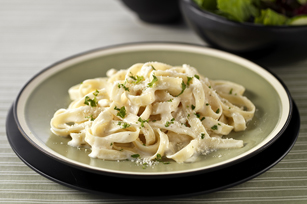 Cooking:
Time to table:
Serving:

4 people
Give your taste buds a treat with this creamy variation of a family favourite. As a bonus, this recipe can be part of a healthful eating plan.
Cooking Directions
COOK pasta in large saucepan as directed on package.
MEANWHILE, mix broth and flour with whisk in medium saucepan. Stir in cream cheese spread, 1 Tbsp. Parmesan, nutmeg and pepper; bring to boil, stirring constantly. Cook and stir 2 min. or until thickened.
DRAIN pasta; return to pan. Add sauce; toss to coat. Top with remaining Parmesan and parsley.
Flavour Boost
Garlic lovers can add 1/8 tsp. garlic powder.
Makeover Savings
With butter and heavy cream, Alfredo sauce can pack a lot of calories. Instead, our lighter version uses a combination of Philadelphia Light Cream Cheese Spread, chicken broth and flour and also reduces the amount of grated Parmesan. These changes will save you 300 calories and 34 g of total fat per serving!
serving size = 1 cup (250 mL)
per serving