Low calorie fettucini alfredo with bacon
1 (9-ounce) package refrigerated fresh fettucini
2 slices turkey bacon, chopped
1 teaspoon minced garlic
1 tablespoon all-purpose flour
1 cup 1% low-fat milk
2/3 cup (about 2 1/2 ounces) grated Parmigiano-Reggiano cheese
1/2 teaspoon salt
2 tablespoons chopped fresh parsley
1/2 teaspoon freshly ground black pepper
1 bunch broccolini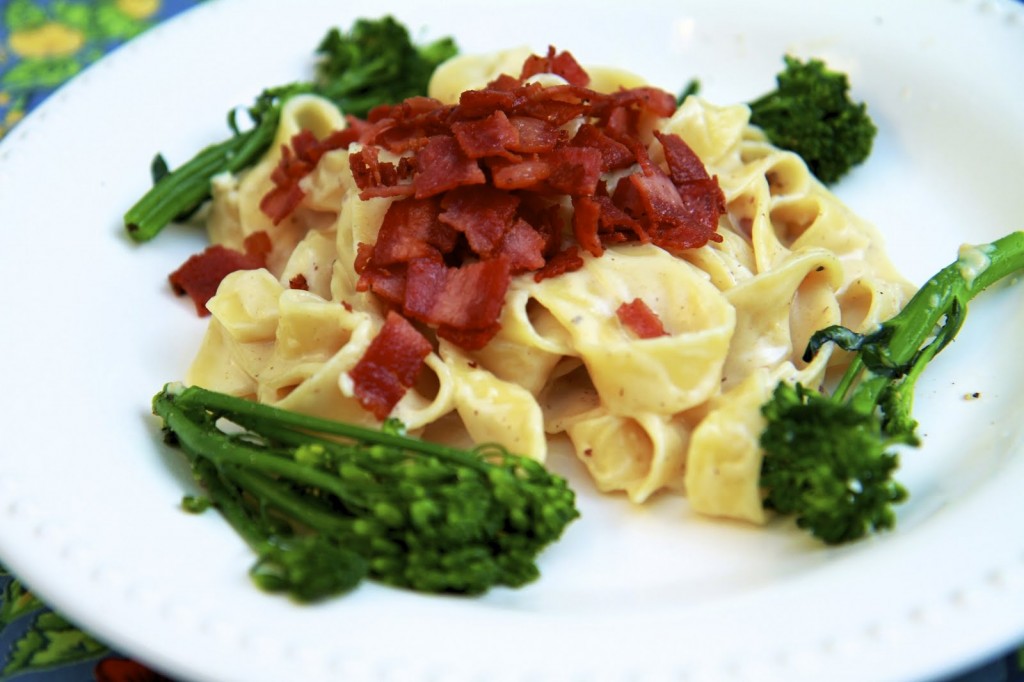 Preparation:
Cooking:
Time to table:
Serving:

2 people
So the title doesn't sound too low calorie…but I adapted the recipe from cooking light, so I promise its not too bad! Although it taste like its bad, because its SO good!
Cook fettucini according to package directions, omitting salt and fat. Drain in a colander over a bowl, reserving 1/4 cup cooking liquid.
While fettucini cooks, cook bacon in a large nonstick skillet over medium-high heat 4 minutes or until crisp, stirring occasionally.
Remove bacon from pan, reserving drippings. Add garlic to drippings in pan; sauté 1 minute, stirring constantly. Sprinkle flour over garlic; cook 30 seconds, stirring constantly. Gradually add milk, stirring constantly; cook 2 minutes or until bubbly and slightly thick, stirring constantly. Reduce heat to low. Gradually add cheese, stirring until cheese melts. Stir in salt and reserved 1/4 cup cooking liquid. Add hot fettucini to pan; toss well to combine. Sprinkle with bacon, parsley, and pepper.