Fettuccine Alfredo with sundried tomatoes and aspargus
8 oz. dry fettuccine,
1 cup table cream,
2 oz. grated Pecorino Romano cheese,
50 gr. sundried tomatoes, cut to strips,
1/2 cup sliced white asparagus,
2 links of pepperoni, sliced,
1 tbsp. chopped onion,
1 garlic clove, minced,
1 tablespoon butter,
salt and black pepper to taste.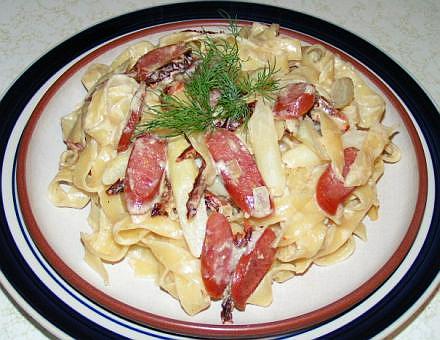 Preparation:
Cooking:
Time to table:
Serving:

2 people
Recipe:
Bring 1.5 liter of water with 1 teaspoon of salt to a rolling boil and boil the fettuccine until the desired doneness. In a frying pan, heat the butter, add the onion and garlic and cook them until soft. Add the pepperoni, sundried tomato and sliced asparagus and sauté for 2 minutes. If you like cooking with wine, here is the moment to deglaze the pan with an ounce of white wine. Add the cream and reduce the sauce to almost half. When the cream sauce is almost ready, stir in the grated Pecorino Romano, taste and season with salt and pepper. Strain the cooked noodles and toss them in the Alfredo pasta sauce.