Ricotta Fettucine Alfredo
1 pound dried fettuccine
2 large egg whites
3/4 cup nonfat ricotta
3/4 cup part-skim ricotta
1/2 cup nonfat yogurt
1/4 cup freshly grated Parmesan
1/2 teaspoon salt, or to taste
1/2 teaspoon freshly ground white pepper, or to taste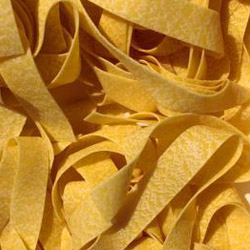 Cooking:
Time to table:
Serving:

6 people
This recipe mainly uses Ricotta as a substitute for cream or (american) cream cheese. Great for the ricotta lovers between us, just beware of the grainy texture so be careful when cooking

In a 5-quart kettle bring 4 quarts salted water to a boil for pasta.
In a blender or food processor blend remaining ingredients until smooth and transfer to top of a double boiler or a metal bowl set over a saucepan of barely simmering water. Heat sauce, stirring constantly, until and instant-read thermometer registers 140°F and remove top of double-boiler of bowl from heat.
Add pasta to boiling water and boil until al dente. Reserve 1/ 2cup pasta cooking water and drain pasta in a colander. Return pasta to kettle and add sauce and reserved cooking water, tossing gently until combined well
1 pound dried fettuccine
2 large egg whites
3/4 cup nonfat ricotta
3/4 cup part-skim ricotta
1/2 cup nonfat yogurt
1/4 cup freshly grated Parmesan
1/2 teaspoon salt, or to taste
1/2 teaspoon freshly ground white pepper, or to taste
Recipe for: Ingredients: