Footha's Fettuccini Alfredo
1 pound dried fettucine
6 tbsp butter
1 shallot, minced
1 cup heavy cream
1 cup finely grated Parmigiano-Reggiano
Salt and pepper to taste
Fresh parsley, for garnish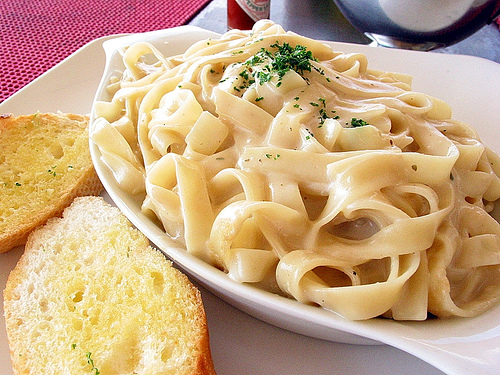 Cooking:
Time to table:
Serving:

4 people
Cooking Procedure:
1. Cook the fettucine in a pot of rapidly boiling salted water until al dente. Drain, reserving 1/4 cup of the pasta cooking liquid.
2. While the pasta is cooking, melt the butter in a medium saucepan over medium-high heat. Add shallots and saute until tender.
3. Add heavy cream and bring to a boil. Cook until sauce has reduced slightly, about 5 minutes. Remove from the heat.
4. Return the pasta to the pot it was cooked in, set over medium-high heat along with the reserved cooking liquid.
5. Add the butter-cream mixture and half of the Parmesan and toss to combine thoroughly. Season with salt and pepper, to taste.
6. Sprinkle with remaining Parmesan and garnish with parsley, if desired.
7. Best served with toasted garlic bread.